West Suburban Medical Center
The midwives of West Suburban Midwife Associates attend births at West Suburban Medical Center's Family Birthplace, which features both traditional birthing rooms and 2 Alternative Birthing Center (ABC) rooms. WSMA nurse midwives admit almost all patients to the ABC, including Vaginal Birth After Cesarean (VBAC) candidates.
Each of the ABC Rooms include a free-standing birthing tub, a queen-size bed, bathroom with shower, microwave, refrigerator, and free wireless internet. The ABC rooms are located on the 6th floor of West Suburban Hospital, in between Labor and Delivery and Postpartum Units.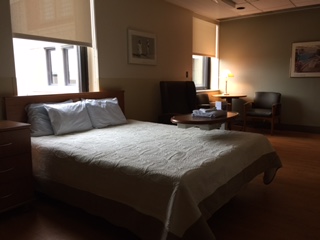 Admission and use of the Alternative Birth Center rooms has some basic requirements. We will also review these requirements at your prenatal visits.
Adequate prenatal care

Completion of a childbirth education course (such as Bradley Method, Informed Beginnings, Brio Birth, Hypnosis for Childbirth or community based program). We do not recommend weekend crash courses.

Attending the ABC Orientation Class at West Suburban Medical Center. To view the class schedule, search "Maternity Services" and "Alternative Birthing Center Orientation Class" will be the first and correct option.

Full-term pregnancy (37 weeks)

Active labor

A reassuring admission fetal non-stress test (NST).
There are some circumstances that risk out of using the Alternative Birth Center rooms:
Induction of labor

Current infection or fever on admission

Prolonged rupture of membranes without labor

Twin gestation
Although rarely needed or used, use of medication and nitrous oxide for pain management is allowed in the ABC. No epidural anesthesia is used in the ABC rooms. If an epidural is decided we merely move down the hall to the standard labor room. Of course the midwife will stay with you!
You will learn more about the ABC Rooms and waterbirth when you attend the ABC Orientation Class. The class can be attended at any time- before or during pregnancy.
You can access an updated Alternative Birthing Center Orientation class schedule by calling (866) 938-7256.